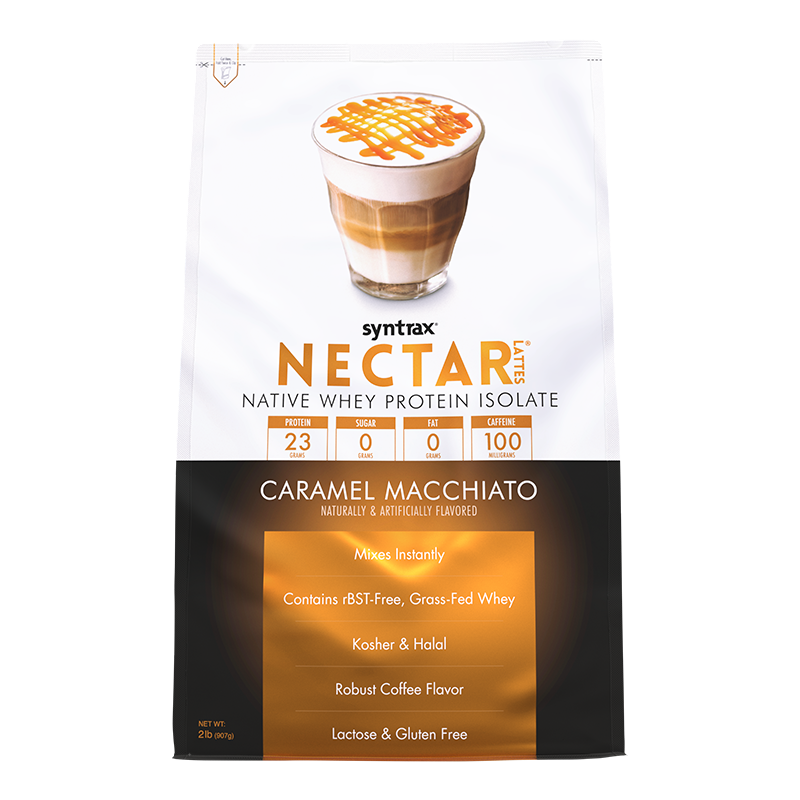  
Nectar Lattes
Whey Protein Isolate
Mixes Instantly
Zero Carbs; Zero Fat; 100mg of Caffeine*

Promina™ Whey Isolate
Robust Latte Flavor
Lactose & Gluten Free
In the world of protein beverage powders, the name Nectar® signifies delicious fruit juice flavors. It means ZERO carbs and ZERO fat. It means instant mixability when mixed with water. It means a pure flavor with no strange aftertastes or hints of protein. To put it simply, Nectar® is the de facto image of quality when it comes to protein drinks.
As the symbol of protein excellence, we did not want to limit Nectar® to only fruit juice flavors. We therefore researched long and hard to find other beverage flavors that would be perfectly compatible with the high-quality standards that Nectar® has achieved. After much experimentation and discovery, we developed Nectar® Lattes. Caramel Macchiato, Vanilla Latte and the original decaf Cappuccino highlight the perfect success we had in creating these coffee-flavored protein powders. With all of the taste characteristics of a barista-made coffee and with no off-note flavors, Nectar® Lattes is sure to please the most discriminating coffee drinker.
* Nectar Lattes Cappuccino contains zero caffeine 
Specific References
upc

810007541112
You have enough to worry about without wondering if you re-ordered your protein every month. Put your health first and your mind at ease with our new Subscribe N' Save feature that saves you time by automatically receiving your protein and/or supplements direct to your doorstep at your desired frequency! No need to re-order!
Subscribe N' Save 10%!
From
Reduction
$0.00 *
-10%
* prices without taxes
* based on the total of your subscriptions