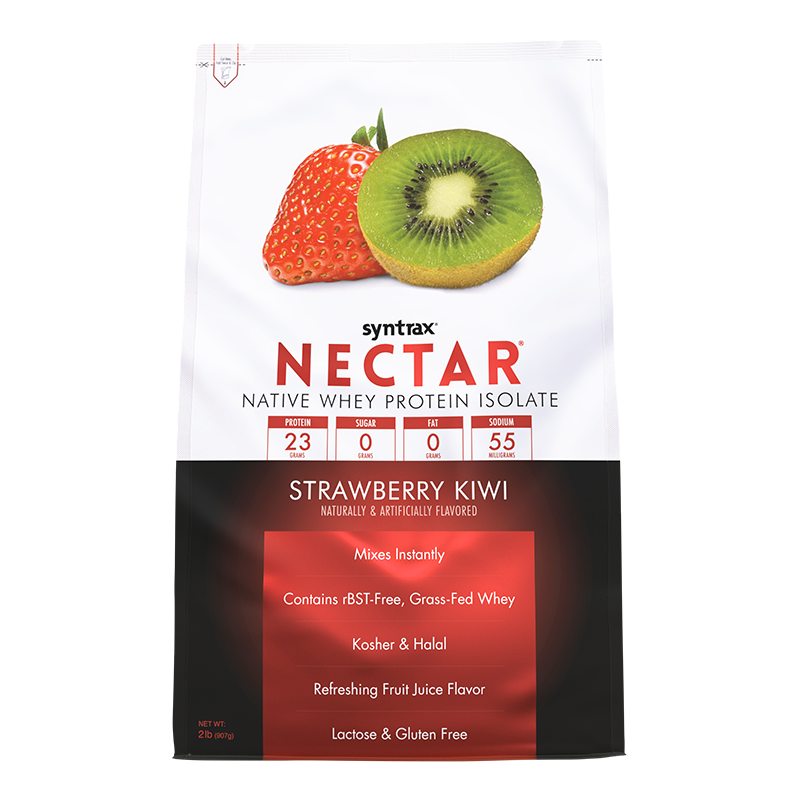  
Nectar
Whey Protein Isolate
Mixes Instantly
Zero Carbs; Zero Fat
Promina™ Whey Isolate
Available in a Variety of Flavors
Lactose & Gluten Free
Welcome to the critically acclaimed world of Nectar®! Gone are the days of low-quality whey protein. Gone are the days of those blah-tasting protein drinks that promise much but deliver little. Nectar® once and for all breaks the mold by combining Promina™, the highest-quality whey protein isolate ever developed, with a flavoring system so fruitilicious that you will never drink a different whey protein shake again.
If you like the refreshing taste of fruit juice, you'll love Nectar®! With its mouthwatering fruit flavors, Nectar® is truly a protein drink you will look forward to drinking each and every day. Whether it be Honeycrisp Apple (previously Apple Ecstasy), Caribbean Cooler, Crystal Sky, Fuzzy Navel, Lemon Tea, Pink Grapefruit, Roadside Lemonade, Strawberry Kiwi, Twisted Cherry or Wild Grape, Nectar® will keep you coming back for more.
What's more, we did something totally amazing by engineering Nectar® to be so delicious that you can eat it right out of the container. Imagine putting a protein powder in your mouth and it tasting like candy. Imagine this protein powder having ZERO carbs and ZERO fat. Stop imagining! We've brought you Nectar®!
Specific References
upc

810007540955
You have enough to worry about without wondering if you re-ordered your protein every month. Put your health first and your mind at ease with our new Subscribe N' Save feature that saves you time by automatically receiving your protein and/or supplements direct to your doorstep at your desired frequency! No need to re-order!
Subscribe N' Save 10%!
From
Reduction
$0.00 *
-10%
* prices without taxes
* based on the total of your subscriptions